Let's go, Warriors!

The Warriors placed a full-page ad in a Toronto newspaper, congratulating the Raptors for their NBA win. I think that's pretty cool.
It demonstrates good sportsmanship, leads basketball fans to a gratitude mindset, and sets up future positive outcomes.
It's their own form of a thank you note, and can inspire us to express gratitude as well. This week's tip explains the benefits.
Thankful for our Raptors,
Yvonne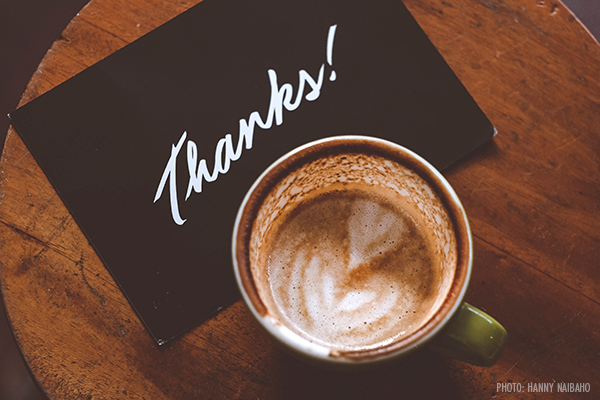 A better world, thanks to notes.
Thank you notes are a small act, that when done consistently, can massively improve our life, and has great impact on those connected to us.
Writing these notes helps us in many ways. Here are 3 examples…
1. Writing by hand slows us down so that we can better think and reflect on our words. Instead of a frenzied email, we switch gears to a mindful exercise that processes gratitude into our subconscious. Our life follows what we focus on, and writing thank you notes helps us pay attention to positivity, and attract more of it.
2. When we express gratitude for what we have received, we are giving feedback to people about what we appreciate. They'll better understand how to treat us. It will help the relationship grow in a desired direction.
3. Thank you notes are an act of kindness that have a ripple effect. They not only brighten the day of the receiver, they can also enhance relationships with others. The receiver is likely to both reciprocate, and pay it forward in some way.
Take action: Not sure what to write? Start by saying thank you for the gift, whether it be a material item or an intangible act. Mention a way in which that gift enhanced your life. Then, express an understanding of the person's special nature or effort. Keep it short and sweet.
:: Inspired by John Kralik's book, A Simple Act of Gratitude: How Learning to Say Thank You Changed my Life.