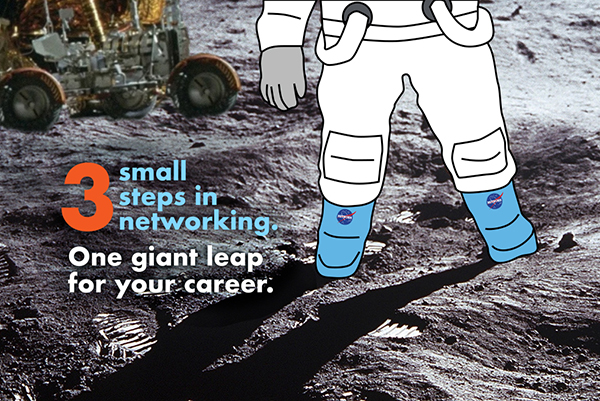 From series: How to take your career from ho-hum to blast-off!
Think some people are just naturally gifted at networking? While others will simply never be skilled at this seemingly elusive artform?
Nah.
Like most things in life, networking is a learned skill. It's a capability that we can develop at any stage in our careers, and continuously improve upon over time. The only way to get better at it, is to break out of your comfort zone and start testing out different approaches. We know, *groan*. But, don't worry, we're here to help.
Step 1. Define direction and set your trajectory
One of the biggest problems we've noticed in our networking circles is a lack of direction. A wishy washy focus achieves wishy washy results. Are we talking about developing a crystal clear 5 year plan to the moon? No. But having a vision, even for the short-term, is an essential component for getting others on side with helping you achieve your next step.
Try out this simple exercise to get you started:
1: Write out a list of the things in your current (or previous roles) that you love – the things that energize you, or that you could do all day without getting grumpy.
2: Write out a list of the things you really dislike doing – the things that you continuously put off, drain you, or that perhaps make you feel like you're in the wrong place. Then, flip it to the opposite to find more of what you do like.
3: Reflect upon these lists. Are there common themes that stand out? Perhaps a fresh perspective on where you want to focus efforts in the future?
Now that you have a better sense of direction, the next time you're asked the oh-so-common-and-sweat-inducing-question, "tell me about yourself," you can comfortably draw from these insights, convey what inspires you, and your sincere desire to find opportunities to do more of these things. Mentally prepare to start actively sharing this information with potential mentors, sponsors or advocates, those who will support your desires and help fight for new opportunities that will fuel you. We promise, you'll be impressed by the results.
Step 2. Who's on your radar? Connect selectively.
Ok, even when you know what you want, reaching out to ask for support can still be daunting. So, be selective about who you want to connect with.
For starters, your chances of success will be higher if someone can advocate for you. That's especially true if your goal is to remain with your current organization, and either switch gears or elevate your position. For example, you can try asking the Senior Manager, who you just wowed on recent work, if they would be willing to keep you in mind for their next high profile project, or recommend you to their supervisor if you're aware of an opening on the team. Even if it doesn't lead to something immediate, you'll have put yourself on their radar for the future.
If you don't have a connection to that Senior Manager, that's okay. Get familiar with what they've put their effort into that resonates with you, and express your interest in it. Have they written an article or posted a comment that appeals to you? Were you on a group call with them where they talked on a subject of interest, or asked a question that you also had in mind? Everyone likes a compliment, so start there, and show curiosity for their journey.
Part of being selective is also an exercise in focus, and ensuring that you'll have the time and energy to follow through. If you reach out to too many people, and receive a positive response from them all at the same time, you may find yourself overwhelmed. Make sure you're being thoughtful about how much you're taking on, so that you can focus on the opportunities that are most appealing to you.
Step 3. Avoid the craters and make a respectful ask.
We'll talk more about knowing your audience in a future article. Until then, be sure to set yourself up for a receptive response by paying attention to what's important to the person you're connecting with, and then align what you want with what they value. If you make it all about you, you'll risk turning them off and may fall into that crater you're trying to avoid.
Here's an example of what your outreach might look like. It's succinct, complimentary, engages with a common interest, says why you are reaching out, asks directly for what you want, and respects their time...
Dear Leila,
I recently attended the annual Elite Astronauts Conference where you were a keynote speaker. I was inspired by your talk on innovation in rocketship mechanics, and your path to becoming Vice President of Engineering at Network Inc.
As an engineer myself, I'm curious to learn more about your journey, and how you've been able to navigate this highly demanding and competitive industry.
Would be open to a brief 15 minute call?
I can share my questions with you in advance, to ensure that the call doesn't run over time.
Looking forward to hearing from you,
Amrit
Grab your jet pack and space boots – it's time to go.
If networking feels like a giant leap outside of your comfort zone, try putting on that impenetrable space suit and testing out just the first of the suggested small steps.
As well as exploring galaxies far, far away, we encourage you to examine what it feels like to connect with professionals in your current solar system. Sure, down the road you may wish to work for SpaceX, but your first steps towards achieving this goal should involve discovery testing and small experiments, before trying to land a 1:1 with Elon Musk.
Like anything in life, putting yourself out there can feel uncomfortable, but we assure you, the more you practice, the easier and more rewarding it will become.
See post Part 3 for our next article on dealing with rejection.
--
:: Co-written by Maryn Wallace, Network Enabler and Client Services Lead at Deloitte Canada, and Yvonne Lines, Freelance Creative Director, Career Connector and Founder of www.SmartLife.tips
Having worked with countless combinations of consulting professionals on winning pitches, Maryn and Yvonne have come to identify a number of limiting beliefs that commonly hold us back in our individual careers and client interactions. Drawing on Maryn's obsession with finding the human-ness in business, and Yvonne's expertise in solo-preneurship, these two creative leaders are joining forces to share their tips on how to effectively and authentically navigate your network.