Hello! I'm Yvonne Lines, the Mindset Mentor behind SmartLife.tips. Here's a bit about me...
I used to go home, flip on the 'toob, watch hours of mindless tv, go to bed, get up, go to work, repeat. Finally, I got sick of it to the point that I decided to do something...
I read every leadership, finance, and development book I could grab. After 236 books, my mindset had changed so much, I was able to leave my steady job, build my own business, and still avoid an all-ramen diet. Now, I can finally call myself a business owner, a surfer, and a motorbike adventurer.
I'm loving life and want to share what I've learned, so that you can live your best life too.
I hope to e-meet you soon.
[email protected]

---
Why I do what I do...

I want to live an inspired life, surrounded by high-quality, happy people. I believe that the more useful knowledge I can spread, the more I can contribute to enhancing people's lives, and then we'll all be growing together, in a positive direction.

Mission (aka: "the what")...

I help people be more fulfilled in their work lives, by sharing mindset strategies for better decision making.
I'm an advocate of knowing and living by your values and letting them be a guide for your choices. Often that means choosing what lifestyle you deeply desire, and figuring out how to make your career work with it, instead of trying to fit your life around your work. This perspective may seem counter-intuitive to how you've grown up. Mindset strategies often twist how we look at our lives so that we can open up greater opportunities for ourselves. I'm also a big advocate of brainstorming and experimenting, because more options lead to better options, and trying out ideas can either help cross thoughts off our list quickly, or lead to opportunities we could not have seen coming.
How it comes to life...
I've been reading intensely for years, as well as listening to podcasts, watching videos, and going to conferences, having one-on-one conversations, etc., all around leadership, finance, and self development. I take the interesting nuggets of wisdom I learn, give them a test drive in my own life, and if I find them useful, I'll share them. You can find the mindset strategies on my blog, on YouTube, have them set to your inbox, or if you want to zoom in a subject, I've created the video courses you'll find at the top top of this page. I'm also available for talks, workshops, and coaching.
---

---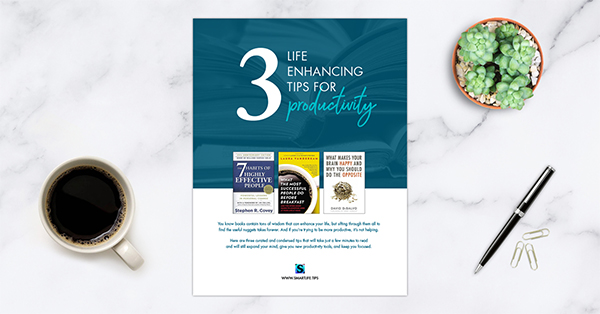 Save tons of reading time!
Join hundreds of other self development enthusiasts and receive mindset strategies every 2 weeks. Plus, get the nuggets of wisdom from 3 top productivity books and start living a smarter life. Learn how to be more effective, focus better, and maximize your will power to hit your goals.
---
Check out SmartLife's participation with these associates...

Biz Leadership, Embrace Destiny, Finance & Markets, Fit Small Biz, I Am & Co, Speaker Slam, WellBeing World